Rudy Van Gelder
(born 2 November 1924, Jersey City, New Jersey) is regarded as one of the most important recording engineers in music history. He has recorded several thousand jazz sessions, including many widely recognized as classics, in a career spanning more than half a century during which he has brought an unprecedented clarity to jazz recording, plus he has recorded many of the great names in the genre, including Miles Davis, Thelonious Monk, Sonny Rollins, Joe Henderson, Grant Green, Wayne Shorter, John Coltrane, and many others.
Although he was associated with Blue Note Records he also worked for PrsetigeRecords, Savoy , Libery .. he was often admired for his recording techniques (the warmth and presence he brings to the end- result being a longtime jazz fan -his uncle, after whom Rudy was named, had been drummer for Ted Lewis's band in the mid-1930s and Van Gelder himself had lessons on trumpet). Some critics however have also expressed a distaste for the thin and recessed sound in the instruments, mainly the piano ( Blue Note president and producer Alfred Lion often noted that Rudy was sometimes a little heavy on the reverb and would jokingly note that on the tape box as a "Rudy special").
Van Gelder's interest in microphones and electronics can be traced to his youth during which he demonstrated enthusiasm for amateur radio.and
recorded friends in his parents' Hackensack, New Jersey living room in a house build in 1946 and designed with the intention that it could also be used as a recording studio.
"When I first started, I was interested in improving the quality of the playback equipment I had", Van Gelder commented in 2005. "I never was really happy with what I heard. I always assumed the records made by the big companies sounded better than what I could reproduce. So that's how I got interested in the process. I acquired everything I could to play back audio: speakers, turntables, amplifiers"
One of Van Gelder's friends, baritone saxophonist Gil Mellé, introduced him to Blue Note Records producer Alfred Lion around 1952. Within a few years Van Gelder was in demand by many other independent labels based around New York.
Bob Weinstock owner of Prestige recalled in 1999: "Rudy was very much an asset. His rates were fair and he didn't waste time. When you arrived at his studio he was prepared. His equipment was always ahead of its time and he was a genius when it came to recording."
The 1950s also saw Ven Gelder do engineering and mastering work for the classical label Vox Records.
Until the late 1950s Van Gelder worked during the day as an optometrist.
In the summer of 1959, Van Gelder moved his operations to a larger studio in Englewood Cliffs, a few miles south east of the original location , and left his day job in favor of recording full-time.
(
Carlos "Patato" Valdez (from left), Jerry Gonzalez, Dizzy Gillespie and Andy Gonzalez during recording on the album, Portrait of Jenny at Rudy Van Gelder's studio in Englewood Cliffs, N.J., sometime in the 1970s
.)
The new studios' structure was inspired by the work of Frank Lloyd Wright and bore some resemblance to a chapel, with high ceilings and fine acoustics.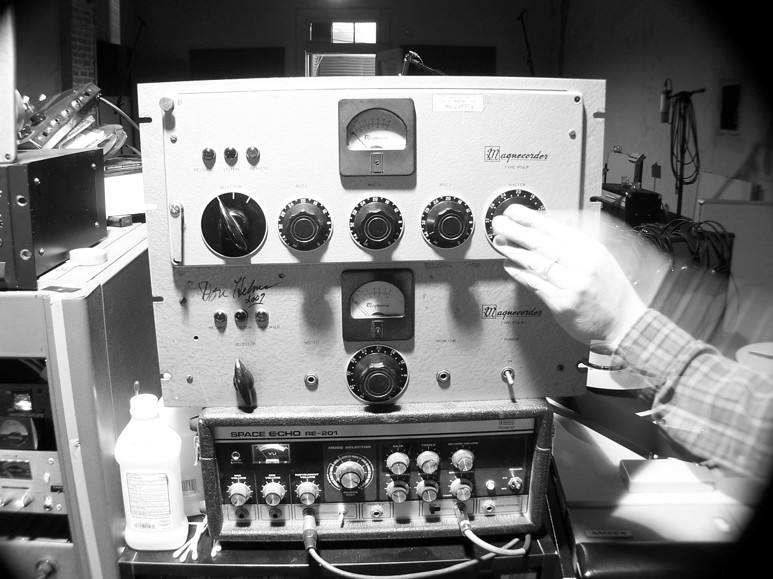 In the mid-1950s, Monk composed a tribute to Van Gelder called "Hackensack."
It was in Englewood Cliffs where John Coltrane recorded his
A Love Supreme
album for Impulse! Records in 1964. Other labels, such as Verve Records, made use of the new facility while Blue Note and Prestige continued their associations with Van Gelder for several years.
Van Gelder was secretive about his recording methods, leading to much speculation among fans and critics about particular details.
In 1967, Alfred Lion retired from running Blue Note, and the company's owners, Liberty Records (from 1965), began to use other engineers more regularly. Prestige, too, had started to use other studios a few years earlier. Van Gelder remained active in music, most notably as the engineer for most of Creed Taylor's CTI Records releases, a series of proto-smooth jazz albums that were financially successful but not always well-received by critics.
Though his output slowed, Van Gelder still remains active as a recording engineer. Since 1999, he has been busy remastering the analog Blue Note recordings he made several decades ago into 24-bit digital recordings in its ongoing RVG Edition series, and also for a similar series of re-masters featuring some of the Prestige albums he recorded for its current owners, Concord Records.
Van Gelder interviewed by jazz.com & by jazzwax
Tracklist
1– Thelonious Monk :Four In One
Bass – Al McKibbon
Drums – Art Blakey
Saxophone [Alto] – Sahib Shihab
Vibraphone – Milt Jackson
2– Miles Davis:Budo
Bass – Joe Shulman
Drums – Max Roach
French Horn – Junior Collins
Piano – Al Haig
Saxophone [Alto] – Lee Konitz
Saxophone [Baritone] – Gerry Mulligan
Trombone – Kai Winding
Tuba – Bill Barber
3– Hank Mobley:Remember
Bass – Paul Chambers
Drums – Art Blakey
Piano – Wynton Kelly
4– Freddie Hubbard:Arietis
Bass – Art Davis
Drums – Elvin Jones
Euphonium – Bernard McKinney
Piano – McCoy Tyner
Saxophone [Tenor] – Wayne Shorter
5– Kenny Burrell:Midnight Blue
Bass – Major Holley
Congas – Ray Barretto
Drums – Bill English
6– Joe Henderson:Mode For Joe
Bass – Ron Carter
Drums – Joe Chambers
Piano – Cedar Walton
Trombone – Curtis Fuller
Trumpet – Lee Morgan
Vibraphone – Bobby Hutcherson
7– Donald Byrd:Christo Redentor
Bass – Butch Warren
Drums – Lex Humphries
Guitar – Kenny Burrell
Piano – Herbie Hancock
Saxophone [Tenor] – Hank Mobley
Vibraphone – Donald Best
8– Wayne Shorter:Footprints
Bass – Reggie Workman
Drums – Joe Chambers
Piano – Herbie Hancock
9– Art Blakey:Moon River
Bass – Jymie Merritt
Piano – Cedar Walton
Saxophone [Tenor] – Wayne Shorter
Trombone – Curtis Fuller
Trumpet – Freddie Hubbard
10– Jimmy Smith:See See Rider
Drums – Donald Bailey
Guitar – Kenny Burrell
Saxophone [Tenor] – Percy France
Credits
Producer

– Rudy Van Gelder
Notes
All tracks except #1 & #2 originally recorded by Rudy Van Gelder.
Digitally remastered by Rudy Van Gelder in 2004
#1 recorded July 23, 1951
#2 recorded January 21, 1949
#3 recorded February 2, 1960
#4 recorded August 21, 1961
#5 recorded January 8, 1963
#6 recorded January 27, 1966
#7 recorded January 12, 1963
#8 recorded February 24, 1966
#9 recorded November 28, 1961
#10 recorded June 16, 1959
Lp: Please your ears n' your soul